Shopping for a gadget-obsessed friend or family member? Buying the right thing for your loved ones is definitely a challenge and it's even more so when your special someone is a geek!
For the One Who Always Wants the Latest-and-Greatest, it could be hard to distinguish between what's truly gift-worthy. But these creative picks are sure to delight even those wannabe techies on your list. Here are the 6 gift ideas to help you get the perfect Christmas gift for the perfect geek!
1. The iBell
Taking the classic look of an alarm clock with twin bells and placing them with a snug iPhone cradle, comes the fantastic iBell. Download the free app and then when your phone vibrates in the morning you can now get woken up by the retro metallic sounds of bells.
Worry no more, with this new gadget, being late at school or at the office won't ever happen.
2. LOCKITRON
Is your door COMPLETELY locked? Do you ever feel secured after leaving the house?
With Lockitron and a smartphone, you do not have to worry as you can lock or unlock your doors with an app. Lockitron can send a notification when your child unlocks the door using their phone or key.
You can share access of the lock with your family and friends, that it even notifies you when your front door is unlocked by anyone of them. And when your phone is near enough to the door, it will automatically unlock – great for times when your hands are full with groceries. Coolness and security never worked this good together.
3. Iron Man's Light-Up LED Shirt
For die hard superhero fans, forget that mainstream Superman t-shirt and grab this official Marvel merchandise of Tony Stark and his Arc Reactor. There are battery-powered LED's behind the shirt that can be removed for easy washing.
It gets more awesome because this shirt:
Does not prevent shrapnel from reaching your heart
The Arc Reactor is powered by three AAA batteries for 12 hours.
The Arc Reactor begins to pulse on and off giving like it's running out of power, guaranteed to be a blast at crowded Christmas parties and get-togethers
What a perfect show-off to your friends.
4. GUNNAR TECHNOLOGY EYEWEAR
Once a geek, always a geek.
A geek spends most of his day in front of a computer; eye fatigue, eye strain and sometimes headaches could occur due to long periods of staring at the screen. So,your eyes will eventually beg for mercy. These glasses, most notable for the yellow tint of their curved lenses, are supposed to reduce the eye fatigue that can plague anyone who spends large parts of their day glued to a computer screen.
It comes with many frame designs to fit any face shape and different lenses for different eye protecting purposes.
So, instead of getting him a new pair of glasses, get him a pair of Gunnar glasses.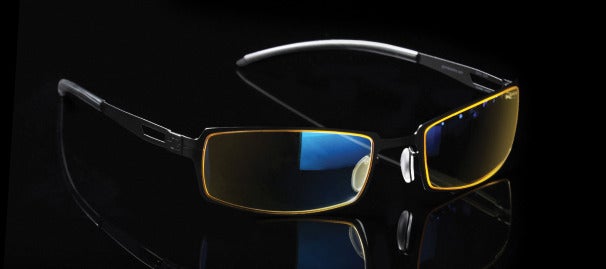 5. CALL ME, Bluetooth Handset Gloves!
The name Bluetooth Handset Gloves doesn't give much away. 'Sure' you might be thinking, 'they're gloves that work with a touchscreen, that's cool'. But prepare yourselves because we're through the looking glass here, people.
Not only are these gloves comfy and warm (and totally touch-screen friendly) but they will wirelessly sync with your smartphone. Turning your hand into a phone.
That's right. Just pull them on, press the 'answer' button and make the classic 'phone hand' shape.  Talk on the phone by extending your thumb and pinky-finger.
Talk to the hand! (Ugh, really?) These special gloves are also good for techie couples.
6.Boomchair
Immerse yourself in video games, music and movies you love with the BoomChair. This awesome chair will lead to 10x the awesomeness of whatever it is you're doing. It has a pair of 3″ 2-way speakers, bluetooth connectivity technology that easily syncs with any portable bluetooth enabled device, has built-in USB port for charging and most specially, it has adjustable vibration, volume and bass/treble.
This sure does gives an extra kick of excitement to your everyday gaming!
7.  USB LED BEVERAGE COOLER
Nothing's more refreshing than a nice, cool drink within arm's reach of the computer!
If you always want a can of your favorite drink nearby your computer, this USB-powered mini-fridge is the answer to all of your problems. The USB power keeps your drink at the perfect temperature
Long hours in front of the computer are more enjoyable than ever, definitely a Christmas gift your geek friends would definitely enjoy!