We all know best friends aren't just the people we hang out and swap stories with even our dirty little secrets, right? They're more like the long lost sisters (or brothers) that know everything about us – the good and the bad- and yes they still love and accept us no matter how crazy life may get.
We love the fact that so many of our favorite talents are chummy off camera, as well.
So, here are just a few of our favorite Hollywood besties who love each other on and off screen, and a few of our favorite collaborations they've worked on together.
10. Jimmy Fallon and Justin Timberlake
Jimmy became so smitten with Justin that he dedicated full weeks of his show to his best friend while he was still hosting Late Night. The two actually met in 2002, during the MTV Movie Awards that featured Jimmy as a host and Justin as a (gasp!) solo artist for the first time in history.
"I remember talking backstage during those VMAs. I was totally nervous and you were nervous and we both ended up having good night," Jimmy said to GQ. "We're good luck to each other — like each other's rabbit foots." How cute are they?
It seems like whenever Jimmy makes a re-appearance on SNL, Justin isn't far behind him – or vice versa. The two have done six "Barry Gibb Talk Show" sketches together, the first which aired back in 2003.
9. Jennifer Lawrence & Bradley Cooper
J.Law and Bradley have actually been co-stars in three films at this point, so they've developed quite the friendship. "Jennifer amazes me each time we work together," Bradley said to Cover Media. "She's so naturally gifted as an actress and she can bring so much to every role. I've worked with her on three films now… and we get along so well. She's very uninhibited and she always tells you what's on her mind and it's a joy to be around someone like that."
When asked about her performance in American Hustle, Bradley laughed while claiming "I think audiences are going to be blown away by her – again!" Of course, we totally were.
8. Russell Crowe & Hugh Jackman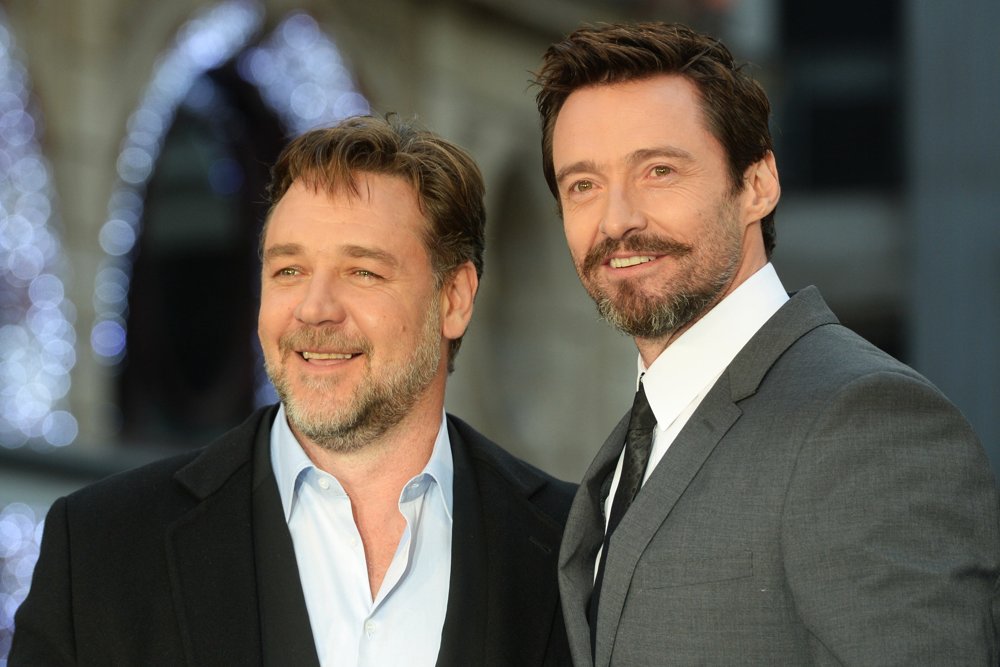 Here's an interesting fact: Russell actually helped Hugh score the career-changing role of Wolverine in the X-Men films. Why? Well – Russell turned down the role when it was offered to him, and suggested Hugh as a contender.
Thankfully, there's no bad blood between them, and they make sure to make time for each other in between film shoots. The two ended up working together on 2012′s Les Miserables, and are super supportive of each other when movie premieres occur.
7. Ryan Reynolds & Sandra Bullock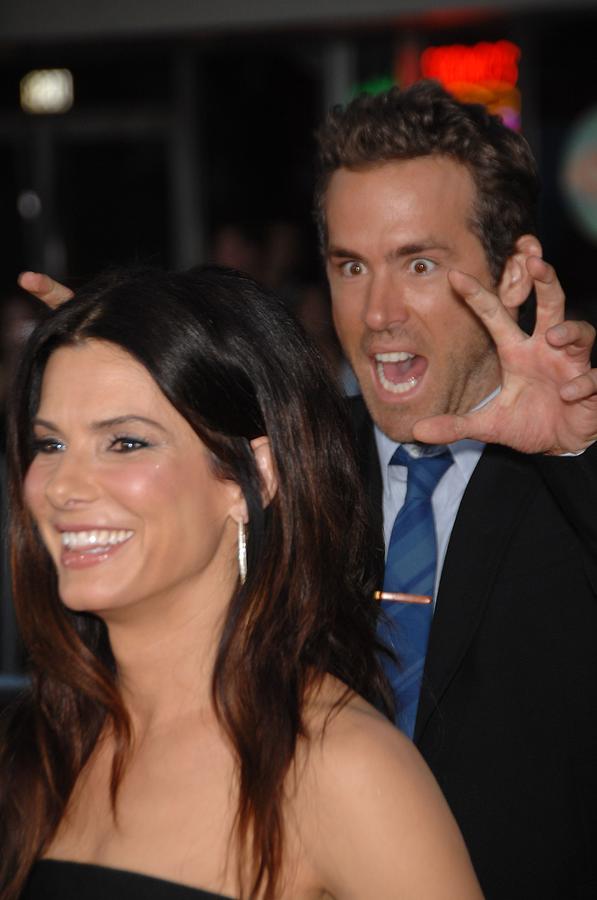 After working together in The Proposal, Ryan had nothing but good to say about Sandra, and the friendship they've developed throughout both of their careers. The two have actually been close for awhile, so the project was absolutely perfect for both of them.
"I would love to do another movie with Sandra," he said to the Inquirer. "We've talked about it. We had such great chemistry [in 'The Proposal']— that was based on 10 years of friendship. We had known each other for a long time when we went into that. If it's the right [project], we'll do it because it's like working with family. It's a great experience."
6. Zooey Deschanel and Joseph Gordon Levitt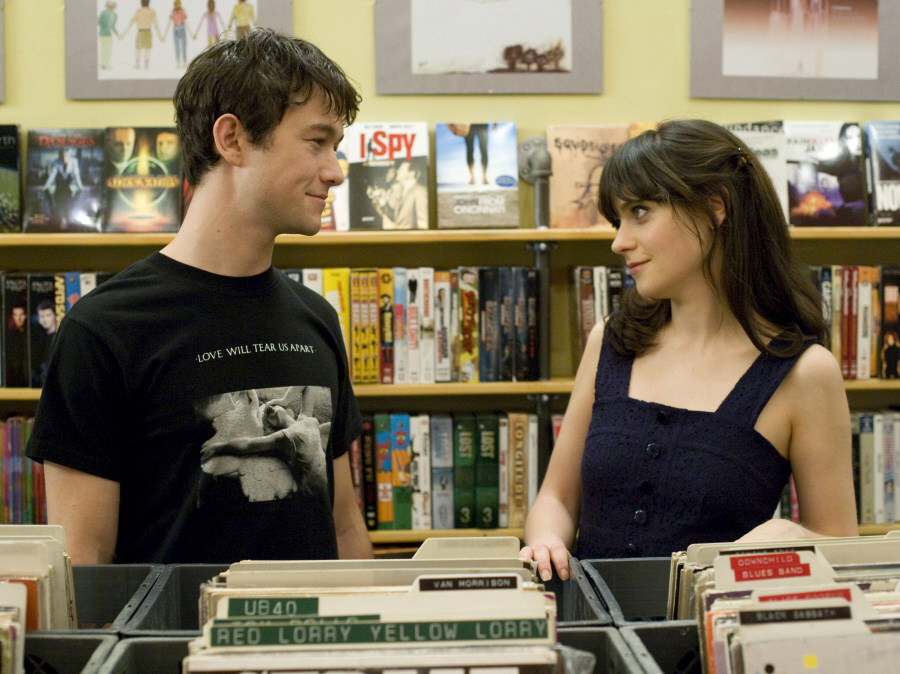 We all loved (500) Days of Summer, and part of the reason as to why the movie was so successful was due to the fact that our girl Zooey and Joseph Gordon Levitt have amazing chemistry together. The two have been buddies for over ten years, and have truly helped each other grow. "She's turned me on to so many movies and so much good music. It's fun just to have conversations, watch movies with her," Joseph said back in 2012.
Joseph Gordon-Levitt says its funny how people never get tired of romantically linking him and best friend Zooey Deschanel.
Fingers crossed for another cute collaboration from the two of them in the future! (Preferably the near future, since they're adorable together.)
5. Zac Efron and Ashley Tisdale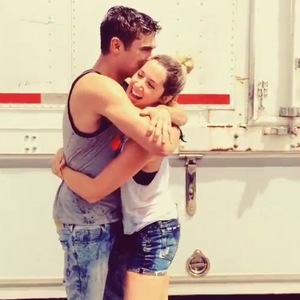 Zac and Ashley might not get the chance to hang out as much as they did during their High School Musical days, but they have a great excuse – they've just been so darn busy. Also, the rumors of their friendship turning romantic, but hey – she still supports his career. In fact, she was one of the first people to show up at the premiere of his film That Awkward Moment earlier this year.
During Ashley's 26th birthday party, she let it be known to the world that Zac's presence meant the world to her. "'So happy Zacary made it to my party!!! He's my brother/best friend!!!" she tweeted. Aww. Those kids.
4. Ian McKellen and Patrick Stewart
I definitely regret not including these two in the first list, as their friendship is absolutely incredible (and readers? I heard you loud and clear, since I love your input). They've provided their fans with a bunch of hilarious photos – with wax figurines of each other, or selfies by the famous Christmas tree at Rockefeller Center together. The two starred in numerous X-Men films together, and have also worked on two plays together: Waiting for Godot and No Man's Land.
"We became friends on X-Men," Patrick said to the Huffington Post. "Ian loves talking about it. There are so many parallels in our careers and our lives. We're both Northerners; He's a Lancastrian and I'm a Yorkist, and he went to a great University but I left school when I was 15. But he was successful and became a star immediately. I saw him and I was amazed, overwhelmed by the quality of his work. I started our relationship as a fan. He wouldn't know who I was back then."
3. Jennifer Aniston and Courteney Cox
We love these funny friends, and love the fact that they seem to think of each other when their careers are involved. While we probably won't be getting a Friends reunion anytime soon, the two reunited on the show Dirt, where they even shared a kiss.
"There's absolutely no judgment in Court," Aniston told More Magazine. "You'll never feel scolded. She's extremely fair, ridiculously loyal and fiercely loving."
2. Zach Braff & Donald Faison
Zach recently crashed a Reddit AMA that Donald took part it, which made redditors love the pair even more. After all, Donald is Zach's "chocolate bear," and their chemistry on set for Scrubs was tough to match. Donald and Zach even have their own joint youtube account, and pleased fans with this wonderful rendition of "Baby It's Cold Outside" back in 2011. The two are set to appear in Wish I Was Here, which was funded through a Kickstarter campaign that Zach started up last year.
1. James Franco and Seth Rogen
Seth Rogen and James Franco have been best buds since they met on the set of the incredibly amazing, cancelled too soon show Freaks and Geeks. From there, they worked together on Pineapple Express. And don't forget about Knocked Up and This Is The End. And – you saw their parody of Kim and Kanye's music video, right?
credits to: giggle