For those who grew up loving the anime, "Sailor Moon" which was a staple series of the '90s, we are sorry to tell you folks that the several changes over the quality of the anime are for real. Changes that will never be rebooted from the preferable original flavor, the adorable casts you used to love.
So much so, that when Toei Animation announced it would be REBOOTING IT FOR THE NEW GENERATION, many fans met the news with skepticism.
As it turned out that there were some commotions and issues from the Sailor Moon Fans and not everyone was happy with what they perceived to be having low-quality visuals. However, some fans were very happy to see the return of Sailor Moon. But now that Sailor Moon Crystal has started to release on Blu-Ray, Sailor Moon has changed yet again. And there's nothing you can do about it.
As she quoted,
It's a practice done to make the anime better, and in doing so, increase the likelihood someone would buy the new release."
If you'd like a the quick version, this single image sums up the nature of the tweaks: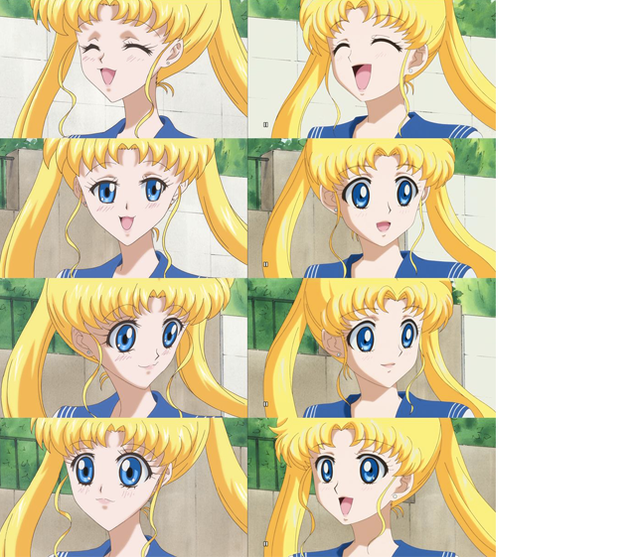 The Usagi on the left is what she looked like on the TV broadcast. The Usagi on the right is what she looks like in the Blu-ray release. Needless to say, she looks way better on the Blu-ray release—her face shape isn't horrible, her eyes aren't way too big for her head, and the colors are a bit warmer. I like it."
Two years ago, Sailor Moon creator Naoko Takeuchi announced the development of a new Sailor Moon anime. Every snippet of news was scrutinized for whatever clues that could be found regarding the new series' content, and despite of some delays, the hardcore Moonies never lost faith. Sailor Moon Crystal finally premiered on July 5th, 2014 as an online exclusive via streaming services such as Hulu, CrunchyRoll, and Niconico Douga, a Japanese streaming service offering subtitles for the series in ten languages.
Unlike the first anime, which was a rather loose adaptation of Takeuchi's manga in both style and substance, Sailor Moon Crystal cleaves much closer to its source material. Not only is the look of the series much closer to Takeuchi's art style, the story has been adapted with painstaking fidelity. Every episode of the series is based upon a chapter of the manga, certain shots even echoing iconic panels.
Take a look of some comparison shots:

So, don't fret Sailor Moonies, the NEW VISUALS are for the NEW GENERATION'S sake.
(article credits: kotaku)