How to better choose your wedding suit?
The big day is coming and you still don't know which wedding suit to choose ? You need advice to create a perfect look, worthy of your future wife ? Themes, seasons, trends and personal style: we guide you in the choice of your wedding suit.
How to choose your wedding suit ?
Look good with your wedding suit
Your wedding suit must be elegant and of high quality, it must combine style and sobriety. The choice of cuts will depend on your morphology and the choice of colors, your style and the color of your eyes and hair. The suit must be perfectly fitted to your size :
Pants: falling on the top of the shoes without hiding them; neither too loose nor too tight on the legs;
Jacket: sufficiently fitted to naturally mark the waist without making folds; light padding on the shoulder pads to highlight the build; jacket length just above the buttocks;
Shirt: plain or patterned; short or long sleeves depending on the season. Also learn how to iron your shirt to parade in a neat outfit.
Shoes: elegant, clean and quality; in the same color scheme as the suit or in completely different tones.
Adapt your suit to the theme of your wedding
Chic and glamorous: blue, charcoal gray, black, red and burgundy tones;
Country and nature: prefer a suit in warm tones (pearly white, beige, brown, orange, etc.).). You can even pair a green jacket with cream pants with ease. Bright colors are in, so go for it !
Think of the straps, which bring class and distinction, and fashion accessories in wood or cork, very trendy at the moment. Finally embellish your look with a must-have accessory by choosing the perfect tie for your wedding suit.
Trendy wedding suits
In need of inspiration ? Check out the hottest wedding suits to find your style for that special day. Investigate on the web for example, or in the special wedding shows on TV, or in the magazines and catalogs specially dedicated for that special day.
A wide choice of colors, shapes, styles and fabrics are available to you. Whatever the case, you will have to go through the "fitting" stage. Get your witnesses or friends to accompany you to play with have an outside opinion.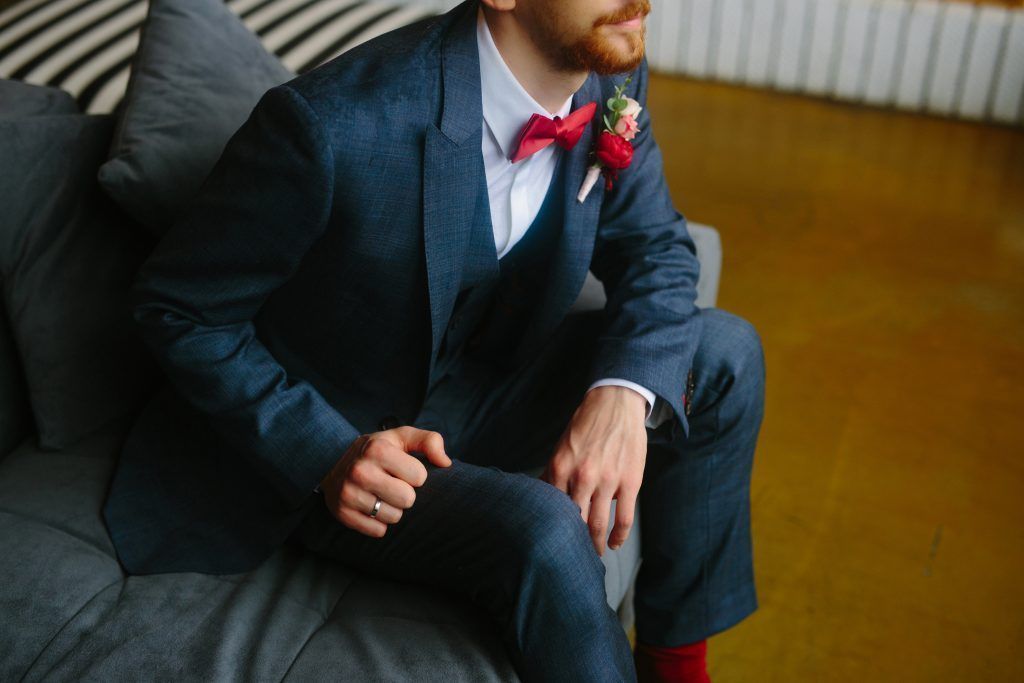 Wedding suits for the end of the year'year
If you are getting married at the end of the year, do not hesitate to play with seasonal colors Choose from navy blue, grey or black for the suit, with a blue shirt for example. Add some original touches to break the strict and sober side of the suit (totally different tie, patterned jacket, etc.).).
When preparing your outfit, you should also take into account the following temperatures and the vagaries of the weather to spend a totally serene day. Complete your suit with a thick vest, to keep you warm, and with waterproof shoes, which will keep you dry.
Choosing your wedding suit is not something you can do lightly and requires some time. Play the safety card or the original card, and learn how to dress up for the most beautiful day of your life !